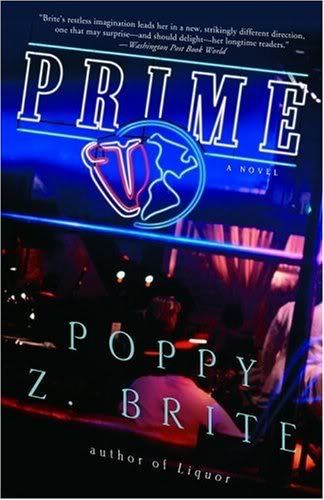 Last night I finished reading
Prime,a Novel
by
Poppy Z. Brite.
Prime
is set in New Orleans, and is part of a series of Books Brite has written about the main characters Rickey and G-man, two chefs who are business and life partners. In this book, Rickey has become somewhat of a celebrity chef, thanks to a book written about him and their restaurant, Liquor. He's not happy about being a celebrity…more embarrassed. He just wants to be a cook.
When their financial backer, Lenny Duveteaux, is accused of some serious crimes, Rickey and G-men end up in the middle of Lenny and the crazy district Attorney, Placide Treat.
Prime
is mostly a mystery/suspense novel, however that aspect of the book doesn't get too intense until the middle. Overall it's a really good read, with great characters, and interesting perspectives on the restaurant world, celebrity chefdom, politics and New Orleans.
Brite is a New Orleans Native, and her descriptions of the city and its people really bring you to the city, and not in a tourist-y way at all. She talks about New Orleans food and how it plays a part in her books in
an interview with Bookslut
:
How closely is food identified with New Orleans culture, in your view? Could someone write New Orleans lit without, for example, mentioning gumbo?

I don't think I mentioned gumbo in Liquor, actually, with the exception of the "Deconstruction of Gumbo" appetizer in the Chapter of Shame (about the restaurants that opened and closed while Liquor was in progress). I chose to mention it in this context because, while it's a great local dish and one we do eat quite a lot, it's also a big New Orleans cliché -- in terms of both food and metaphor, for instance, describing the city as "a gumbo of musical styles" or "a gumbo of races" or what have you. It's so ubiquitous that it's almost meaningless.

Yeah, I mentioned gumbo for almost exactly that reason -- it was the first dish that came to mind, clearly demonstrating how brainwashed I've been by the clichés. Is there a meal that better demonstrates New Orleans culture? Or can one meal really do that? (I know I'd never say that clam chowder in a sourdough bowl is everything you need to know about San Francisco, after all, despite the cultural resonance.)

Well, first off, I didn't mean to imply that there is anything wrong with gumbo -- it's a quintessential and frequently wonderful New Orleans dish. I don't know of one meal at one restaurant that could demonstrate New Orleans "cultcha," but I'll make an attempt to compose a hodgepodge meal that showcases my personal favorite indigenous dishes:

One dozen raw oysters on the half shell (CASAMENTO'S)

One pound of boiled crawfish and half a dozen boiled crabs (SID-MAR'S)

Shrimp and Tasso Henican (COMMANDER'S PALACE)

Redfish "on the half shell" (cooked with skin on one side) with stewed tomatoes and cheese grits (DANTE'S KITCHEN)

Assortment of sandwiches: oyster loaf (CASAMENTO'S), roast beef po-boy (PARASOL'S), muffuletta (CENTRAL GROCERY), cochon de lait (suckling pig po-boy) (FOOD BOOTH AT JAZZFEST)

Bananas Foster (COMMANDER'S PALACE)

Cream of Ice Cream Snowball (HANSEN'S SNO-BLIZ)

I could not actually eat all this food at one sitting, but I'd enjoy sharing it with three or four companions. There is also a roasted duck dish from a certain restaurant that I'd include if I didn't strongly dislike the owner. Our duck dishes are underrated.

Dining well is an absolutely essential part of most New Orleanians' lives, but one of the things I hoped to do in Liquor was show that we're about more than gumbo, crawfish, and po-boys. Nor are we a "Cajun" city -- to get good Cajun food, you have to visit other parts of Louisiana. New Orleans cuisine is Creole rather than Cajun. Liquor's menu certainly has some local touches, but as Rickey, the chef, says, the food is eclectic French-influenced -- not Creole.
In
Prime
, her descriptions of food are totally drool-worthy. In one part of the book, Rickey is asked to go to Dallas as a consultant to make a restaurant's menu more profitable for owner Fred Firestone:
"Firestone laughed heartily. Ricky barely heard the irritating story. He was too engrossed in his fourth course, a crisp, tangy sautéed skate wing in a richly flavored buerre noisette. The flavors were almost too intense, but not quite; the pleasure of tasting them nearly spilled over into discomfort, but stopped just short of it. That was how all the course had been: beautiful food, exquisitely plated but not stacked into towers, topped with great brittle mounds of sweet potato hay, or tortured into unnatural shapes. The meal had opened with a clear tomato consommé in which floated yellow grape tomato halves and tiny cubes of toasted garlic. Next came a perfect Belon oyster in a grapefruit and black pepper mignonette sauce, the slivers of translucent raw sea scallop draped over a celery gelée and topped with dollops of sevruga caviar. The skate was the first hot course, and Rickey was impressed with the way the lemony flavor referenced the previous, lighter courses. Just as he'd feared, Coop was cooking on a level that was, if anything, higher than Rickey's own. How was he supposed to improve on this?"
I would recommend
Prime
to Food Lovers, New Orleans lovers and mystery lovers. In fact, I'll probably reading Brite's other books in the series,
Liquor
and
Soul Kitchen
.
Here is the New York Time review of Prime
, and
you can read the first chapter here
(PDF)