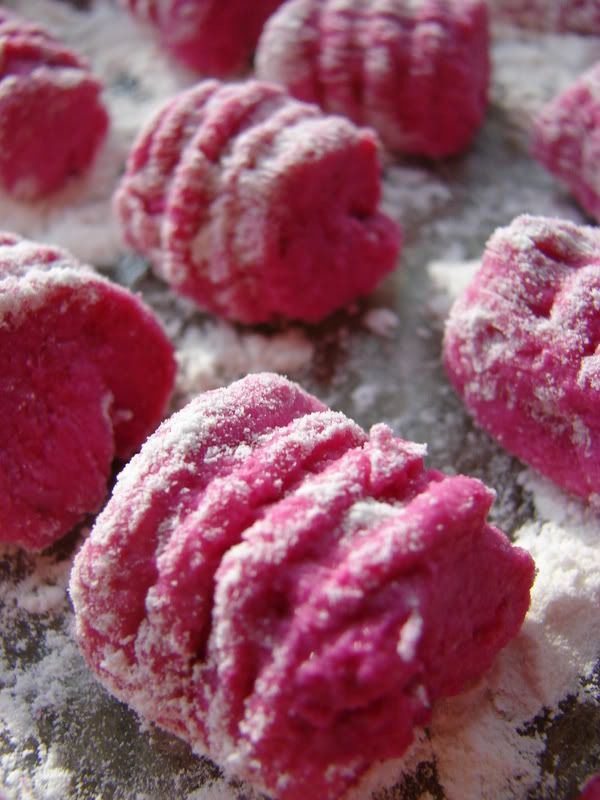 Over the weekend I was going through a stack of loose recipes that I keep in a binder. I really need to organize that thing. Anyway, I came across a page torn out from Bon Appetit from October 2004. One of the recipes on the page is Beet Gnocchi with Rosemary. Sounded good to me. I've never made gnocchi from scratch. Jack has...the regular (but unbelievably delicious) potato kind. I thought the beet gnocchi would be fun because of the deep red beets. I had no idea how fantastic and surreal the color would be! These fellas were bright pink! Here's the dough (before I added some more flour because it was way too wet):
This photo has not been altered in any way. It was THAT bright!
Here's the recipe. I'll put my personal notes in
bold type
.
Beet Gnocchi with Rosemary



8 first-course or 4 main-course servings

3 small beets, trimmed
1 pound fresh ricotta cheese

(I used part skim ricotta from the grocery store)


1 large egg
3/4 cup freshly grated Parmesan cheese
1 1/4 teaspoons salt
1/4 teaspoon ground black pepper
1 1/2 cups flour, divided

(I had to add more flour to the dough. use your judgement)



1/2 cup (1 stick) unsalted butter
8 3-inch-long fresh rosemary sprigs

Additional freshly grated Parmesan cheese

Preheat oven to 450 degrees. Wrap beets in foil and roast until tender, about 1 hour.
Cool 15 minutes. Slip skin off beets; discard skins. Coarsely grate beets. Place 3/4 cup grated beets in large bowl (reserve remaining beets for another use). Stir in ricotta, egg, 3/4 cup Parmesan cheese, salt and pepper. Mix in 1 cup flour.

(Gnocchi dough can be made 1 day ahead. Cover and refrigerate.)



Lightly dust baking sheet with flour. Place remaining 1/2 cup flour in small bowl. Using tablespoon measure as aid, scoop dough into rounds; transfer to bowl with flour, then roll each into 1 1/2 inch log. Hold in palm of hand and gently
press centers with fingertips to make slight indentations (I formed the gnocchi using this method. The way the recipe had them seemed way too big). Transfer gnocchi to prepared baking sheet. (Can be prepared 6 hours ahead. Cover and refrigerate.)

Melt butter with rosemary sprigs in heavy large skillet over medium heat. Cook until butter begins to brown, about 3 minutes.

(I took the rosemary springs out at this point. the butter had been infused with plenty of rosemary flavor.)

Set aside.

Working in batches, cook gnocchi in large pot of simmering salted water until gnocchi float to surface, about 2 minutes. Continue to cook 1 1/2 minutes longer. Using slotted spoon, transfer gnocchi to skillet with butter and rosemary. Heat butter and gnocchi over medium heat, stirring gently to coat. Transfer to plate; sprinkle generously with additional Parmesan cheese and serve.
Check out this army of little pink pasta: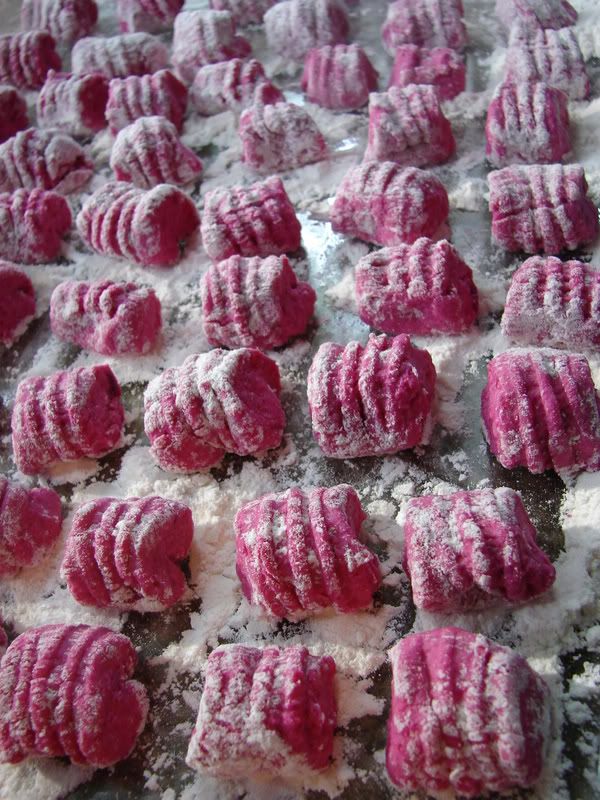 To go with them, I cooked a roast in the crock-pot. It was a chuck roast, and I added about 1 1/2 cups of Chianti, a few sprigs of rosemary and 5 garlic cloves which I crushed a little bit. I cooked it on low for around 8 hours.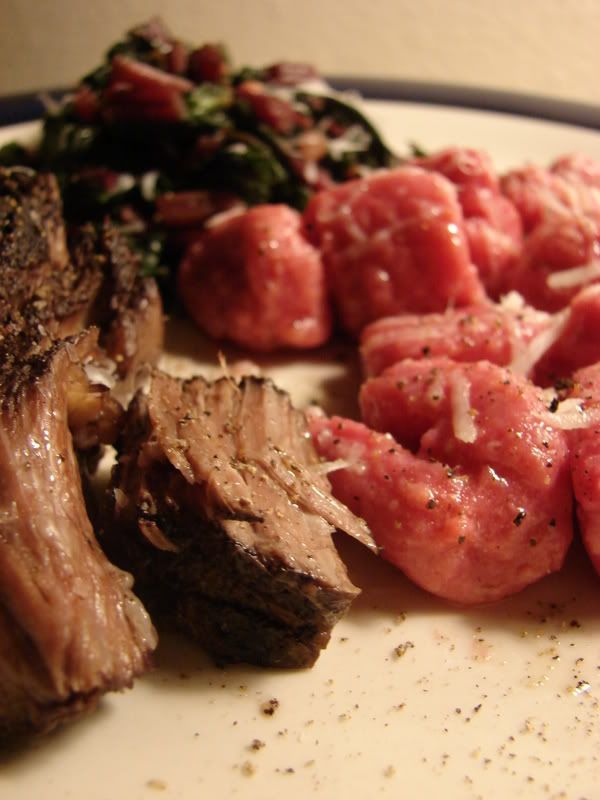 For something green, I cooked the beet tops and some spinach. I cut the beet top stalks into small pieces (about half inch) and sauteed them for a few minutes with 3 chopped cloves of garlic and about 2 tablespoons of olive oil. I added about 1/4 cup of water and a tablespoon of sugar and some salt and pepper and let it cook down for about 3 minutes. Then I added the torn up beet leaves and spinach and let them wilt and cooked everything for about 2 more minutes.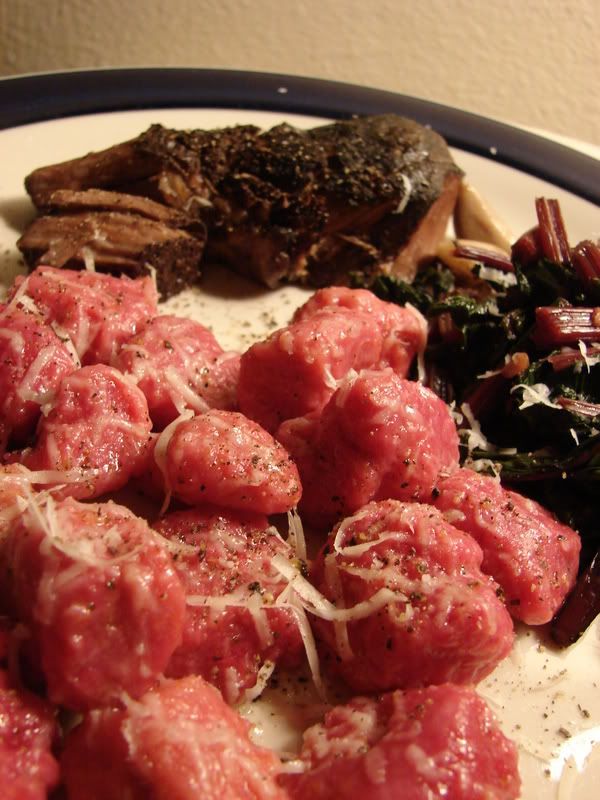 The gnocchi was the highlight of the meal. Not only was the color delightful, the slight beet flavor went really well with the rosemary butter. The greens had good beet flavor, too, and I liked the way they went with the richly flavored meat.