This year Independence Day was on a Wednesday. So what to do on a middle of the week holiday with scattered thunderstorms? COOK! I made potato salad in the morning and whittled down my zuke child in the afternoon.
The potato salad was completely dreamed up. I had a bunch of small red potatoes to use up, and I have been craving some sort of potato salad involving capers. I love capers. So here's what I came up with (my recipe writing skills are wanting...please taste as you make this):
Iron Stef's Italian-ish Potato Salad
Salad:
13 small red potatoes, boiled whole for about 20 minutes, peel on
Handful of diced prosciutto
3 cloves of garlic, minced
1/2 of a 3.5 oz. jar capers-drained through hand
1 roasted red pepper (from a jar)
2 tsp. olive oil
Vinaigrette:
1/4 cup Olive oil
1/4 cup red wine vinegar
2 tsp. balsamic vinegar
2 tblsp. Dijon mustard
Salt, pepper and crushed red pepper flakes to taste.
To Make: while potatoes are cooling, sauté prosciutto for a couple of minutes, then add olive oil and garlic and cook until everything just starts to brown. Set aside to cool. Cut potatoes into bite-size pieces, put into a large bowl and season with salt and pepper. Whisk vinaigrette ingredients together. Add capers, roasted red pepper, prosciutto mixture and vinaigrette to the potatoes and stir (I used my hands, because my potatoes were overcooked and I didn't want to mash them too much). Refrigerate until it's time to eat!
The muffins were kind of a combination of
this recipe for "savory zucchini bread"
and Just Hungry's
Basil Parmesan Zucchini muffins
. Here's my final recipe: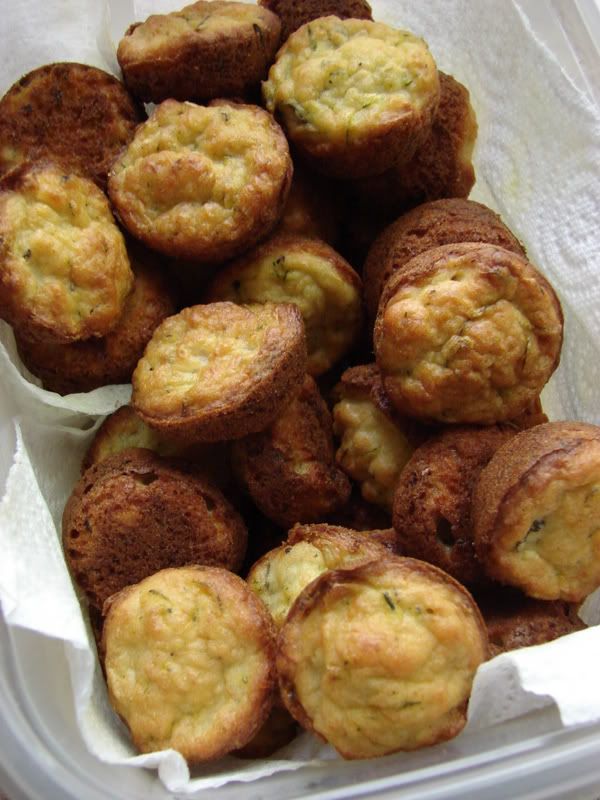 Parmesan Basil Zucchini Mini-muffins
2 1/2 cups biscuit mix
1 small onion, finely chopped
1/2 tsp salt
1/4 tsp. each garlic powder, red pepper flake and nutmeg
1/2 tsp. oregano
1 cup shredded Parmesan cheese
Dash of hot sauce
2 tbsp. minced fresh basil
2 cloves garlic, crushed
1/4 cup vegetable oil
1/4 cup olive oil
4 eggs, slightly beaten (I used egg substitute, because I had it and needed to use it)
3 cups shredded zucchini (I didn't drain mine, which is why there is so much more bisquick than the original recipe)
Combine ingredients, fill mini-muffin tin (about 3/4 full per cup) and bake at 350F for about 25 minutes. Enjoy!