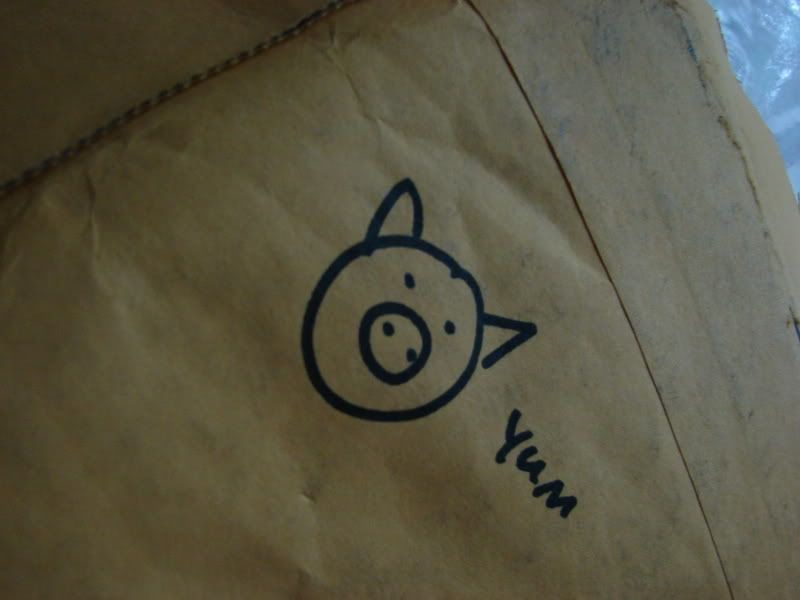 Oh...what could be in this envelope?
About a month back I was tickled to learn I had won a copy of
Pork & Sons
from
Serious Eats
. I was even more pleased when the book came in the mail.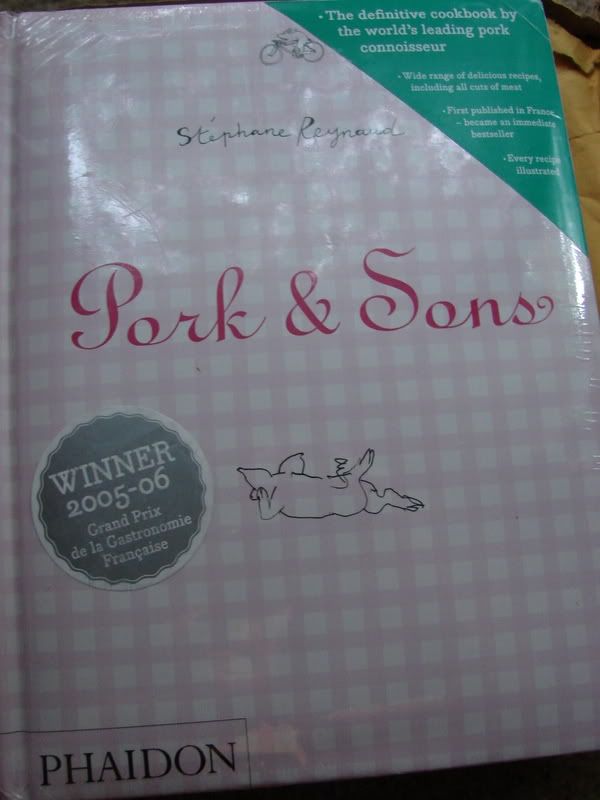 I LOVE this cookbook! It's all pork recipes, first of all. And most of the recipes are pretty simple and non-fussy. I also love all the stories of the people, and the delightful little piggy drawings, and the mouth-watering photos of every recipe. It's a great cookbook.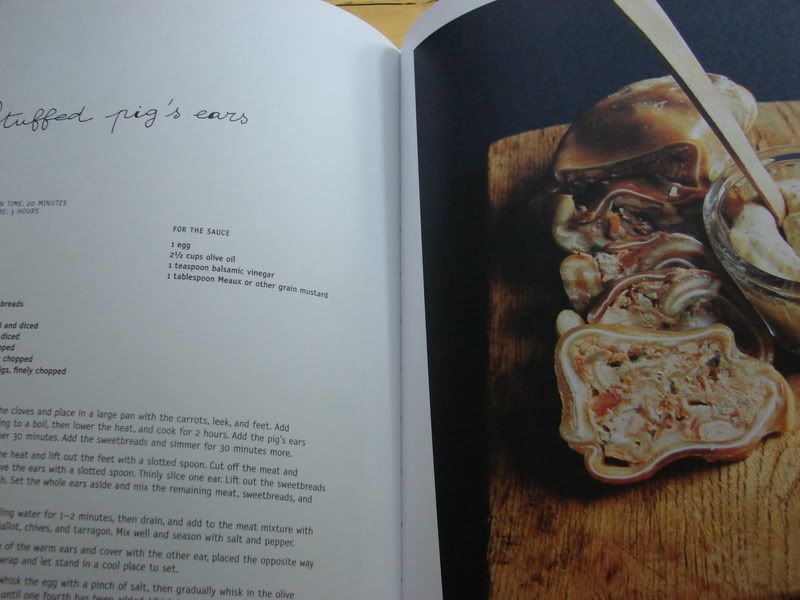 So we saw the movie Ratatouille a couple weeks ago. Loved it. Just like everyone else, it seems. My favorite person, Tony Bourdain, even went so far as to call it the
best food movie ever
. Wow! Well, it was pretty darn good. Slashfood linked to several recipes for Ratatouille,
here
and
here
. However, the recipe they supposedly used for the movie was Thomas Keller's Byaldi from his French Laundry Cookbook.
World on a plate has that recipe here
. I plan on trying it out once I get my sticky little hands on a mandoline. Meanwhile, check out
this video
about the complexities of making computer generated food.
Okay, Here's where the new cookbook and the movie come together. After seeing the movie, I thought the first recipe I should make from Pork & Sons was the one that included Ratatouille! Pork & Citrus Fruit with Ratatouille, to be specific.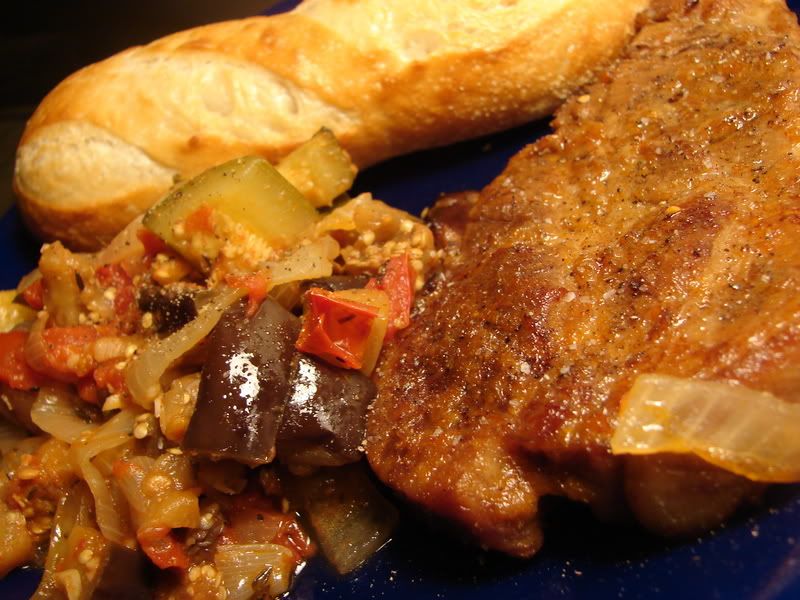 It's a more rustic version of ratatouille than Keller's, to be sure, but it tasted great! It was much more rich than I thought a bunch of veggies could be...even before I added the pork's roasting juices. I used thick-cut pork steaks instead of the pork loin because, well, pork loins are pricey and pork steaks are cheap. I figured since this was a slow cooking dish, the fatty poek steaks would work well. The only other difference I made in the recipe was using dried thyme instead of fresh, and cutting out one of each vegetable, because my dish would not hold so many veggies. Maybe they have smaller veggies in France (where the book was written) or bigger casserole dishes and ovens.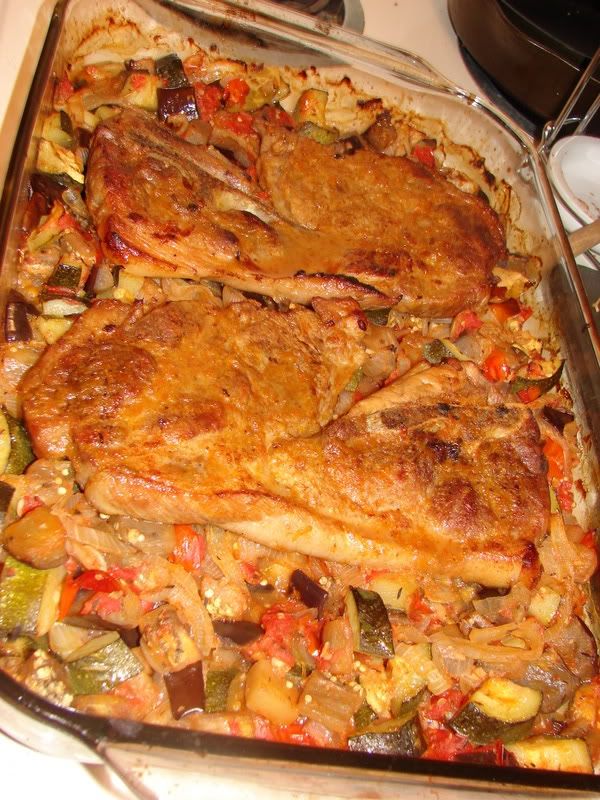 Here's the recipe:
Pork and citrus fruit with ratatouille

2 1/4 pounds boneless pork loin
grated rind and juice of 3 oranges
juice of 1 grapefruit
7 tablespoons olive oil
4 onions, sliced
4 garlic cloves, crushed
3 zucchini, diced
3 eggplants, diced
6 tomatoes, diced
2 bay leaves
1 fresh thyme sprig

Put the pork in a non-metallic dish. Sprinkle with the orange rind and pour the orange and grapefruit juice over it.
Let marinate in a cool place for 2 hours.

preheat the oven to 350

Heat 5 tablespoons of the olive oil in a large, flameproof casserole. Add the onions, garlic, zucchini, eggplants and tomatoes and cook over low heat,
stirring occasionally, for 8-10 minutes, until softened. Add the bay leaves and thyme and cook in the oven, uncovered, for 1 hour, stirring frequently.

Drain the pork, reserving the marinade. Heat the remaining olive oil in a skillet. Add the pork and cook over high heat, turning frequently, for a bout 10 minutes,
until eavenly browned. Tranfer to an oven proof dish and pour in the reserved marinade. Place in the oven and cook,
basting frequently, for 1 hour.

Transfer the pork to a plate. Mix the ratatouille with the roasting juices, then place the pork on top. Return to the oven
and cook for a further 15 minutes. Remove and slice pork, then serve it on a bed of ratatouille.


The pork turned out nice and tender, and very...well, porky flavored. I'm not sure if the marinade helped bring that out, or, more likely, the cut I chose, with all it's fat and bone and connective tissue helped the flavor. Either way, I liked it. And I really like the ratatouille. What a great side dish.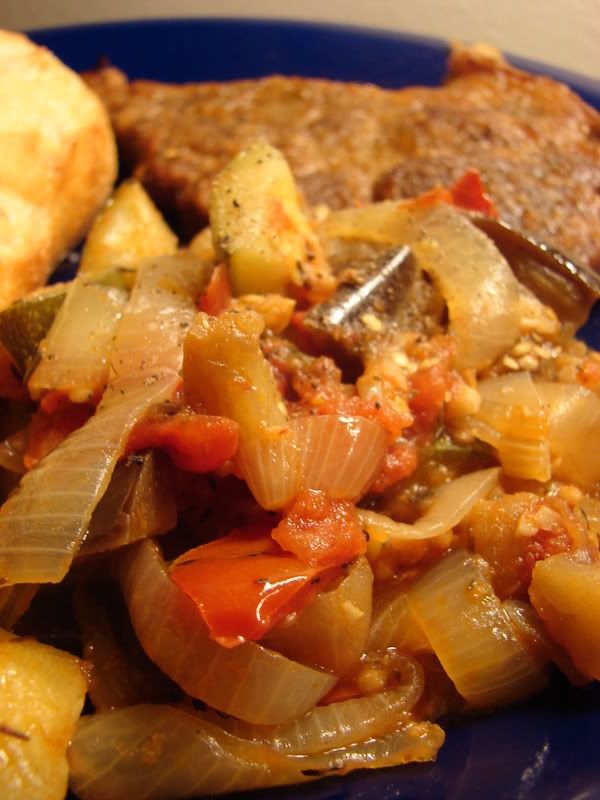 Also this weekend I baked
these pistachio shortbreads from CHOW
. They were tasty, although I over cooked them a bit. I think this would be better served as a crust for a cheesecake, though. Crumbly, buttery and nutty. Next time.