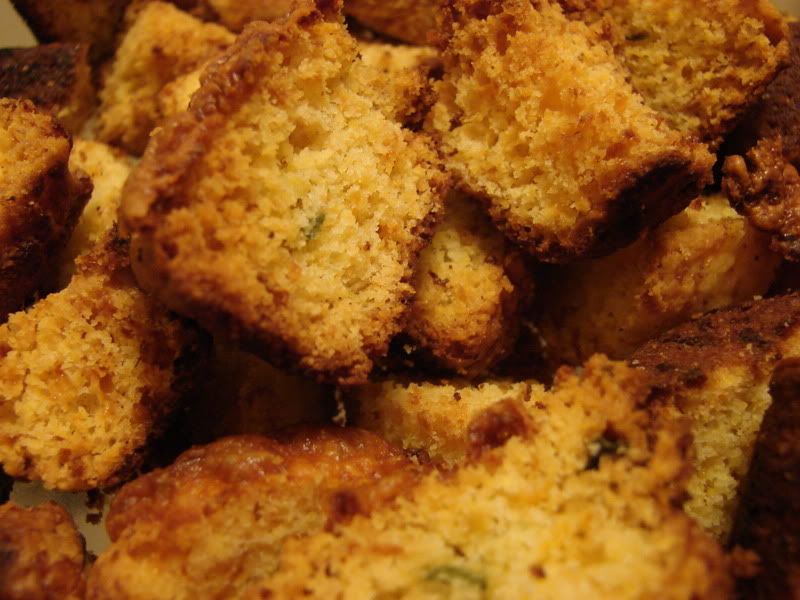 Last night was all about using up stuff. First, I cut up some corn cheddar jalapeño mini-muffins I had made over the weekend, and baked them in a 275-degree oven until they were crunchy. These flavorful croutons will likely become a cornbread stuffing this weekend.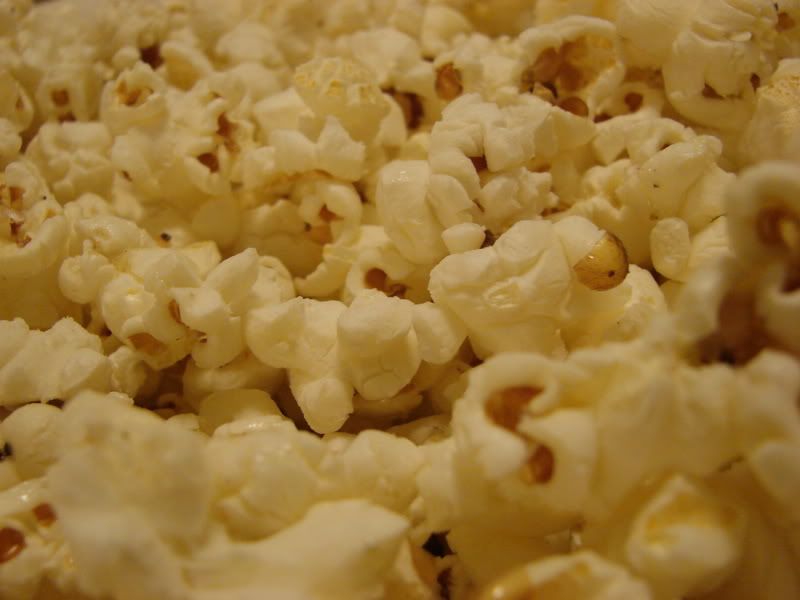 For dinner I had popcorn. Don't laugh! Popcorn is one of my favorite things to eat for dinner, and I often have it when Jack is not home. Over the summer I got a
Whirley-Pop
popcorn popper from Goodwill (brand new!) and it has improved my popcorn greatly. I highly recommend one to anyone who loves popcorn. Now, even though the Whirley-Pop comes with a recipe booklet, I always shunned flavored popcorn. I'm a purist. I love it with butter and salt, period. However, we had some garlic Parmesan butter in the fridge that Jack had whipped up so my mom and I could have garlic bread the other night. I decided to try that instead of regular butter. It was scrumptious, and felt more like a dinner.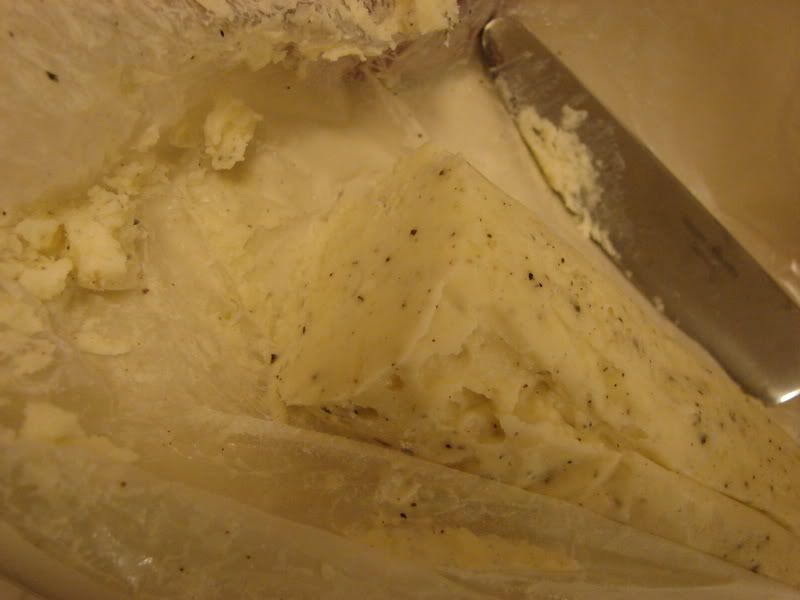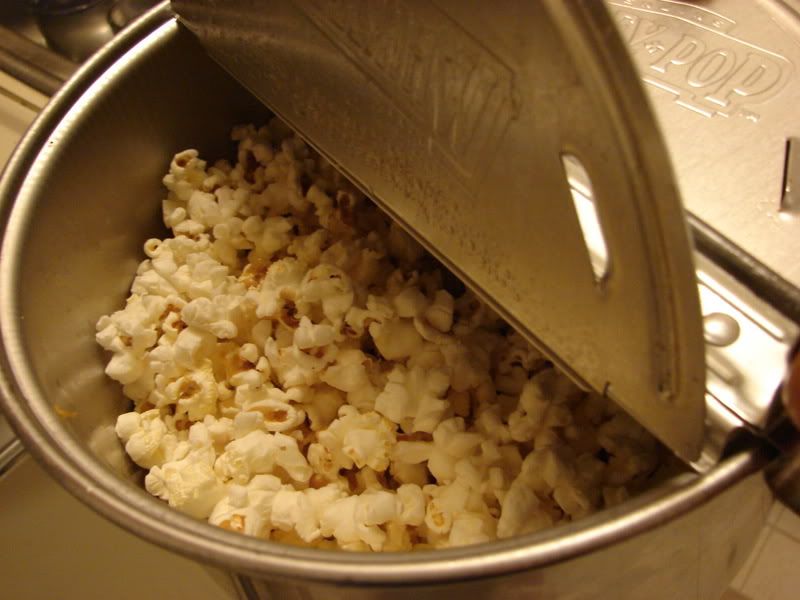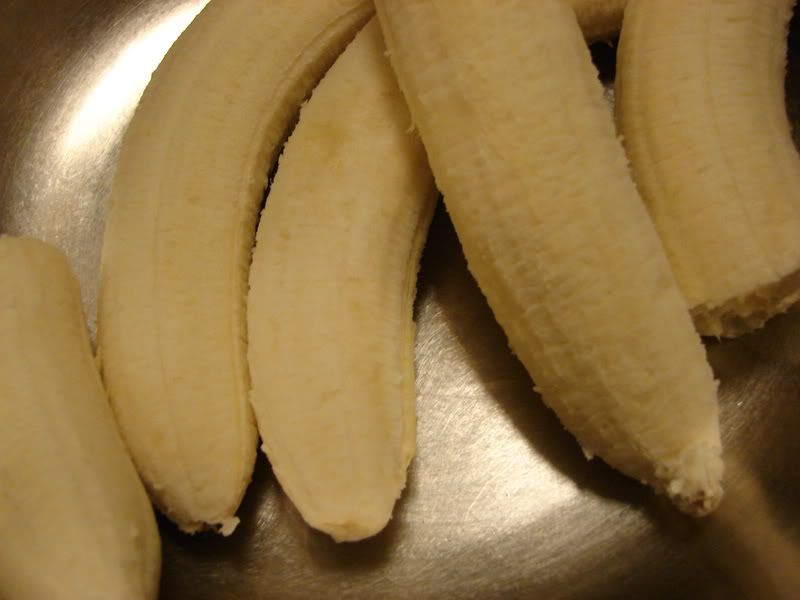 Thirdly, I used the rest of the bananas we got on Bananas Foster night to make good ol' banana bread. I started with this recipe from
Dr. Weil
(it was the first one I found without eggs…I only had one egg at home), and added some things (My notes in
italics
.)
Ingredients
3 very ripe bananas
(I used 4-2 big and 2 small)
½ cup honey
(I also added about ¼ cup of maple syrup)
3 tablespoons expeller-pressed canola oil, plus a little more for oiling the loaf pan
(I used a little less oil and added some full fat plain Greek yogurt I had in the fridge…about ½ cup, and I used butter to grease the pan)
1 teaspoon pure vanilla extract
1 ½ cups whole-wheat pastry flour
(I just had regular AP flour. I added about 1/3 cup more to make up for the extra banana, yogurt and maple syrup liquid-ness)
1 ½ teaspoons baking soda
(I used almost 2)
¼ teaspoon salt
¾ cup chopped walnuts or pecans
(I also added about 1/3 cup of dark rum…)
Instructions
1. Heat the oven to 350° F. Lightly oil a loaf pan. 2. Mash the bananas and mix with the honey, canola oil and vanilla extract.
3. Stir together the whole-wheat pastry flour, baking soda and salt. Add the nuts.
4. Blend the two mixtures and spoon into a lightly oiled loaf pan. Bake for 40 minutes, or until center is set.
I made one loaf and 2 little individual muffins. It turned out moist and I love the flavor the maple syrup imparted. I baked the loaf a little too long, and its bottom is a bit dark…my coworkers don't seem to mind.