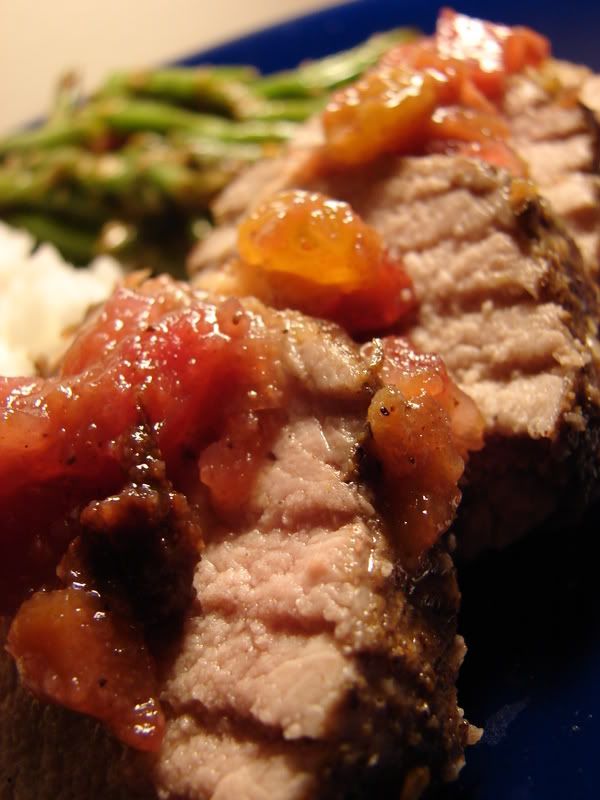 Last night I made this
bifana recipe
. It was my first time cooking with
rhubarb!
That was exciting. I've only had rhubarb in a store-bought strawberry-rhubarb pie, so I didn't really know what the taste was like. I really like it. Tart and crisp...almost granny-smith apple-like. No wonder it goes so good with pork! Anyway, here's the recipe and some more pictures:
INGREDIENTS
3/4 cup white sugar
1/3 cup cider vinegar
1 tablespoon minced fresh ginger root
1 tablespoon garlic powder
1 teaspoon ground cumin
1/2 teaspoon ground cinnamon
1/2 teaspoon ground cloves
1/4 teaspoon dried red chile pepper
4 cups diced rhubarb
1/2 cup chopped red onion
1/3 cup golden raisins
 
1 1/2 pounds pork tenderloin
2 teaspoons ground cumin
salt and pepper to taste
1 tablespoon olive oil
4 sprigs fresh cilantro, for garnish

DIRECTIONS
1 To make the chutney: Combine sugar, vinegar, ginger, garlic, cumin, cinnamon, cloves and red pepper in a large saucepan. Bring to simmer over low heat, stirring occasionally, until sugar dissolves. Add rhubarb, onion and raisins. Increase heat to medium-high and cook until rhubarb is tender and mixture thickens slightly. Remove from heat and let cool completely.
2 Preheat oven to 400 degrees F (200 degrees C).
3 To cook pork: Sprinkle pork with cumin, salt and pepper. Heat oil in large, heavy skillet over high heat. Add pork and brown on all sides, about 5 minutes.
4 Transfer pork to roasting pan. Brush with 6 tablespoons of the chutney. Place in preheated oven, brushing occasionally with 6 more tablespoons chutney. Cook until thermometer inserted into center registers 155 degrees, about 25 minutes. Slice pork into medallions. Garnish with cilantro sprigs and serve with remaining chutney.
It was listed as a quick recipe, however the only way I would consider this quick is if you made the chutney ahead of time.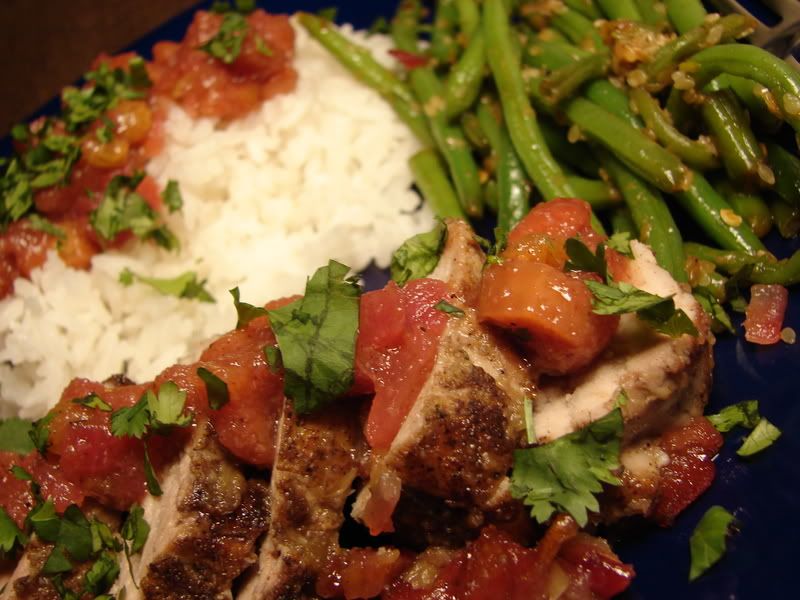 I served it with Jasmine rice and my favorite green beans. The green beans are something I threw together one inspired evening and they remain one of my specialties. I like to use
these Tiny Whole Green Beans
from the freezer section. They have a really good flavor and texture. I basically just stir fry them in vegetable oil with grated ginger and garlic, and add sesame oil, sesame seeds, soy sauce, crushed red pepper, chili oil and pepper. Maybe someday I'll make that into an actual recipe, but I usually just throw stuff in to taste and it turns out yummy every time: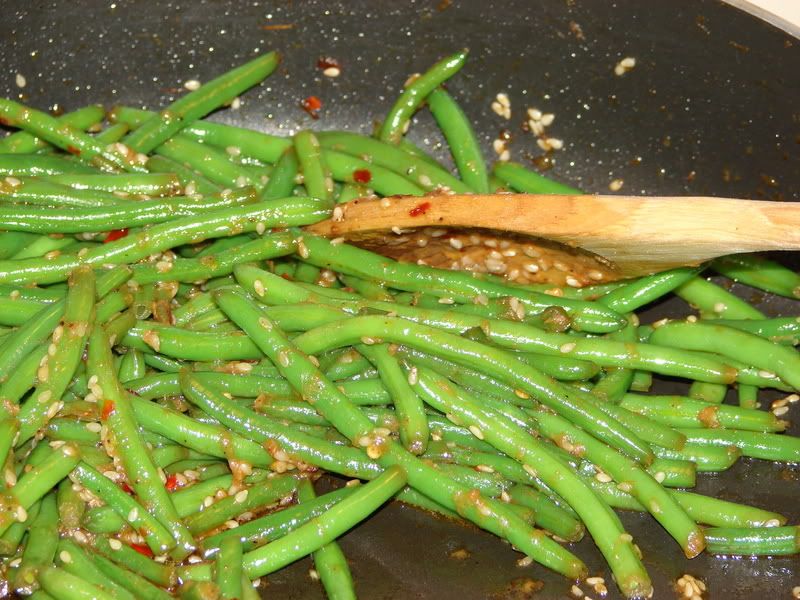 Overall the bifana was really good. I have plenty of leftover chutney for another dinner. I might try it with chicken thighs. Pork tenderloin has very little flavor. You might want to use the chutney with a cheaper, more flavorful cut of pork, like pork steaks or something.