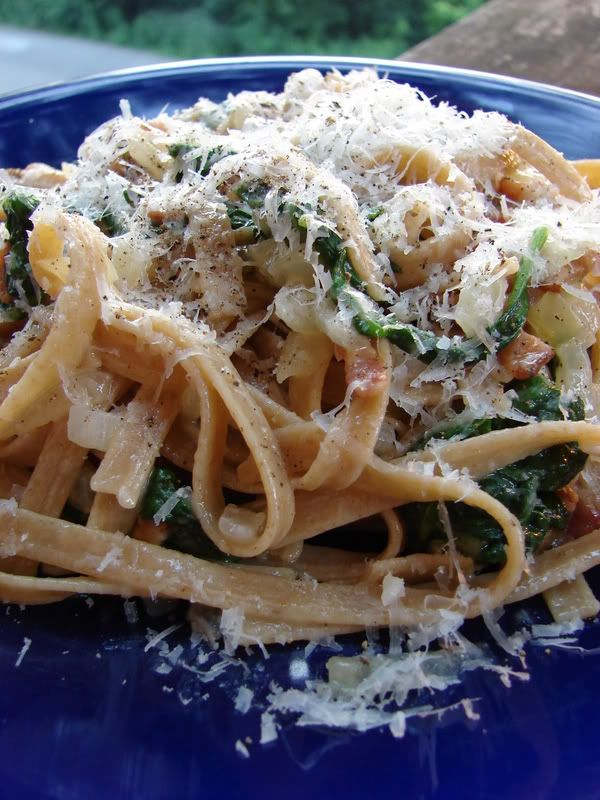 Last night I made
Pasta Carbonara Florentine, a recipe from Cooking Light.
Here's the recipe (I didn't follow it to the tee...see my notes after the recipe):
Pasta Carbonara Florentine
Ingredients
Cooking spray
1/2 teaspoon salt, divided
1 (6-ounce) package bagged prewashed baby spinach
6 slices center-cut bacon, chopped
1 cup finely chopped onion
2 tablespoons dry white wine
8 ounces uncooked spaghetti
1/2 cup (2 ounces) grated fresh Parmesan cheese
1/2 teaspoon freshly ground black pepper
1 large egg
1 large egg white
3 tablespoons chopped fresh parsley

Preparation
Heat a large nonstick skillet over medium heat. Coat pan with cooking spray. Add 1/4 teaspoon salt and spinach; cook 1 minute or until spinach wilts, stirring constantly. Remove spinach from pan; place in a bowl.

Add bacon to pan; cook 3 minutes or until crisp, stirring frequently. Remove bacon from pan, reserving 2 teaspoons drippings in pan; set bacon aside. Add onion to drippings in pan; cook 2 minutes or until tender, stirring frequently. Add wine; cook 1 minute or until liquid is reduced by half. Remove from heat; keep warm.

Cook pasta according to package directions, omitting salt and fat. Drain well, reserving 1 tablespoon cooking liquid. Immediately add pasta and the reserved cooking liquid to onion mixture in skillet. Add spinach and bacon; stir well to combine. Place skillet over low heat.

Combine remaining 1/4 teaspoon salt, cheese, pepper, egg, and egg white, stirring with a whisk. Add to pasta mixture, tossing well to coat. Cook 1 minute. Remove from heat. Sprinkle with parsley. Serve immediately.
Things I did a little differently:
-I sauteed the spinach in garlic and olive oil instead of cooking spray
-I used more than one cup of onion...probably almost 2 cups...I just used the whole onion. I also added 3 cloves of chopped garlic when I cooked the onion. I didn't measure the wine, but since there was more onion, I used a little more wine, too.
-I used more pasta, too. a whole pkg. of whole wheat fettucine.
-I added an extra egg white to make sure the extra pasta/onions got all nice and coated. I may or may not have added more cheese, too...so much for "cooking light"... :)
The verdict? Yummy! Silky and subtle and great with the
Feudo Arancio Grillo Sicillia
(also the wine I used in the sauce...I'm not a huge white wine drinker but this one will make more appearances this summer, for sure). Next time I'll add a bit more bacon and spinach, I think, but other than that, a good, simple meal.