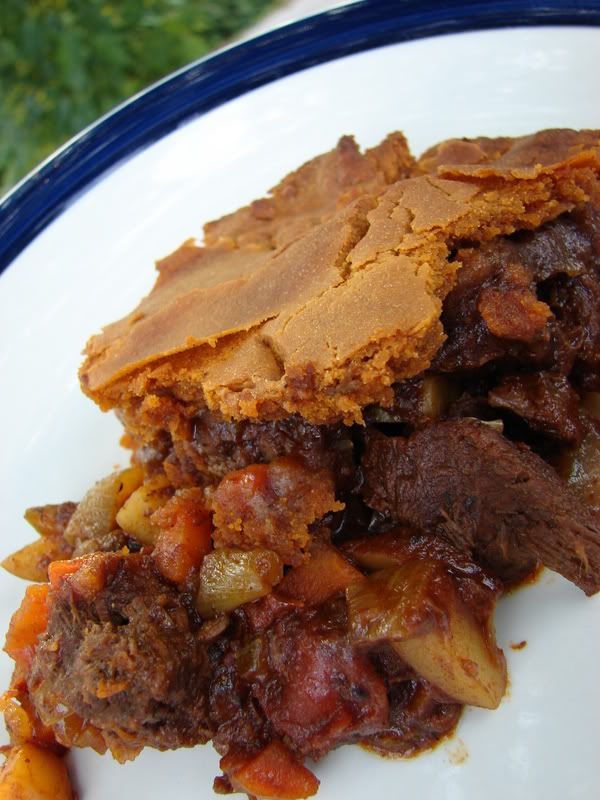 I had a day off yesterday, so I decided to try a recipe that took a little more time than normal weekday food. I chose the Barbecued Beef Potpie with a Chipotle Masa Crust from the
Red Sage cookbook
. It's a cookbook I borrowed a while ago, and it has some great recipes. This one looked like fun. Kind of a challenge for me because I've never made a pot pie, and I'm not so good with baking-type things. But we love chipotle and I've been craving something tamale-like. So I got my potpie on. Here's the recipe:
Barbecued Beef Potpie with a chipotle masa crust

Serves 4

Barbecued Beef
1 tablespoon olive oil
1 ¼ pounds lean beef chuck, cut into 1-inch cubes
¼ teaspoon salt
¼ teaspoon freshly ground black pepper
1 tablespoon red wine vinegar
½ cup red wine
1 cup premium-quality barbecue sauce
1 ½ teaspoons pureed chipotles in adobo
2 teaspoons chopped fresh thyme
½ cup diced celery
½ cup diced white onion
½ cup diced carrots
1 teaspoon unsalted butter
2 plum tomatoes, blackened and cut into a ½ inch dice
2 small new potatoes, scrubbed and cut into ½ inch dice
16 pearl onions, peeled
1 teaspoon brown mustard

Chipotle Masa Crust
1 2/3 cups masa harina
½ teaspoon baking powder
1 teaspoon salt
2 teaspoons sugar
½ cup (1 stick) unsalted butter, at room temperature
¼ cup barbecue sauce
¼ cup pureed chipotles in adobo
1 or 2 tablespoons water, as needed
1 large egg, lightly beaten with 2 tablespoons water

To prepare the beef: Preheat oven to 350. Heat the olive oil in a heavy casserole to medium-high heat. Sear the meat well on all sides and season with salt and pepper. Remove the meat from the casserole and set aside. Pour most of the fat out of the pot. Deglaze the pot with the vinegar, then add the wine, barbecue sauce and pureed chipotles. Bring the sauce to a simmer and stir in the meat and thyme. Cover the casserole and braise for 45 minutes in the oven.

Saute the celery, onion, and carrots in butter in a saute pan over medium-low heat for 5 to 8 minutes, or until slightly softened. Stir the vegetables into the casserole, add the tomato and cook for 1 hour more, or until beef is tender but not falling apart. Stir in the potatoes and pearl onions during the last 10 minutes of cooking. Stir in the mustard at the end and adjust the seasonings to your taste. Set aside to cool. This filling may be made up to 2 days in advance.

To prepare the crust:In the bowl of a heavy-duty mixer with a paddle attachment or food processor, combine masa, baking powder, salt and sugar. Add the butter and mix for 2 to 3 minutes, or until well blended. Add the barbecue sauce and pureed chipotles. Beat for 10 to 15 minutes if using a mixer or process 6 to 8 minutes. The dough should be fluffy and light. Add water as needed. The crust can be prepared to this point up to 24 hours in advance.

To assemble pot pie: Preheat oven to 325. Transfer the meat mixture to 4 individual baking dishes or to a 1-quart baking dish. Roll out the dough ¼ inch thick to the shape or shapes of the baking dishes and place on top. Brush the surface with the lightly beaten egg. Cut vents in the crust. Bake for 30 to 45 minutes, or until the top is well browned and the filling is bubbly.
Here's my ball o' crust: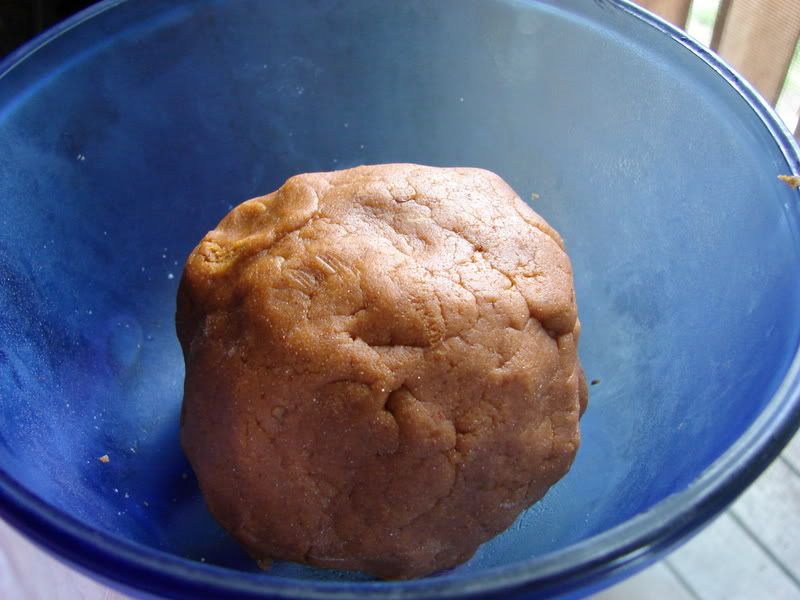 It was pretty crumbly, hence the not-so-perfect finished product: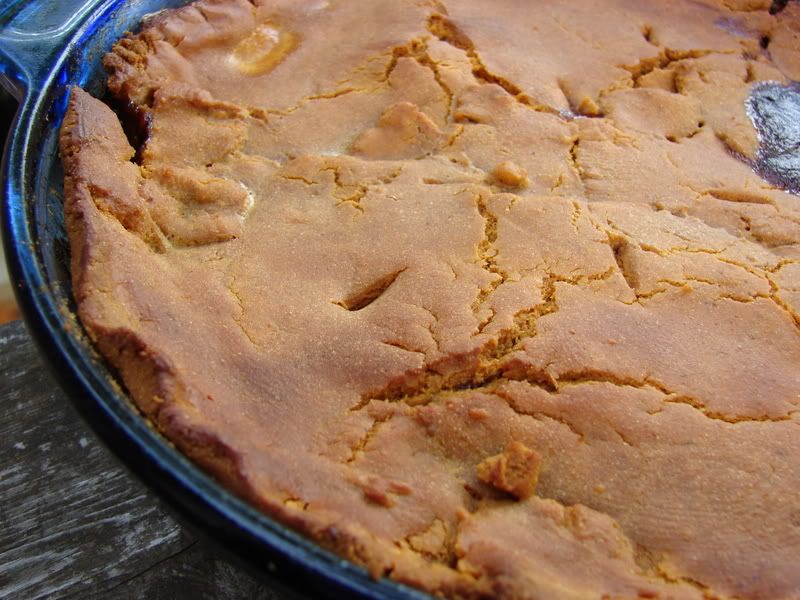 But it sure was tasty.
I used
Ravenswood Ragin' Raven Zinfandel BBQ sauce
. This is a great sauce. It's got a lot of heat. Also, for the red wine, I used
Ravenswood Zinfandel
. It was on sale, as was the sauce, and of course they are meant to be used together!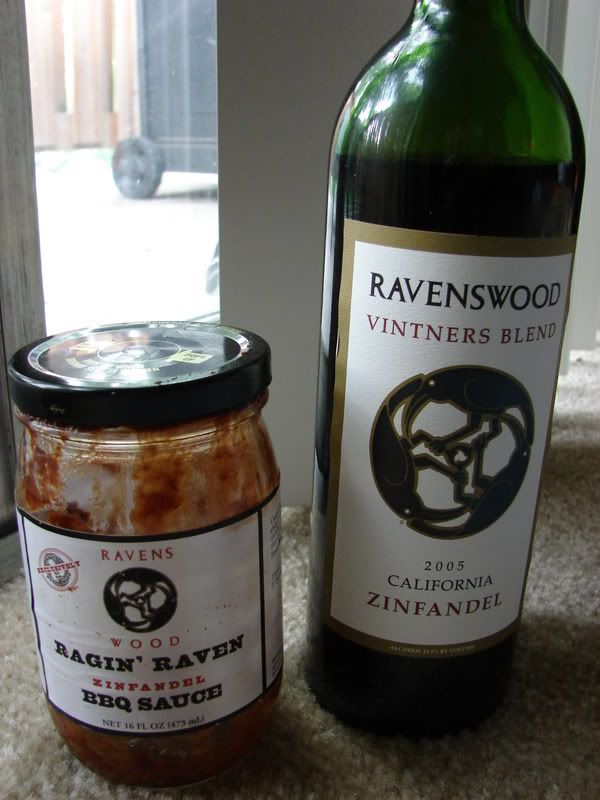 I skipped the pearl onions because the quality didn't live up to the price-tag, and I used roughly diced vidalia onion instead. I also used dried thyme instead of fresh, because I had it on hand. Considering the stuff cooked for more than 2 1/2 hours, I don't think it made too much of a difference. Then end result was really worth all the slow-cooking. The beef was flavorful and the sauce and filling were very bold and spicy. The crust had that distinctive masa corn flavor, which paired well with the barbecue filling. The crust has quite a kick to it, too. Although there was a fair amount of time involved, as the recipe points out, the components can all be made ahead of time. Even so, it's a fun vacation day or weekend dish.