Yesterday I had a vacation day and spent the morning doing fun things with my mom. For lunch I talked her into trying something neither of us had had before, Russian food. There is this Russian buffet I've always wanted to check out called
Astoria Russian Bistro
. So we went.
We were the only ones in there, but I don't understand why because the food was really good. Hopefully they do better business for dinner service or something. I know I'll be returning. There was an advantage to the slow business day...our waitress walked us through everything on the buffet! Yeah, the service was very friendly and fast.
I felt kind of nerdy doing it, but I took photos of my food. So here's what I had: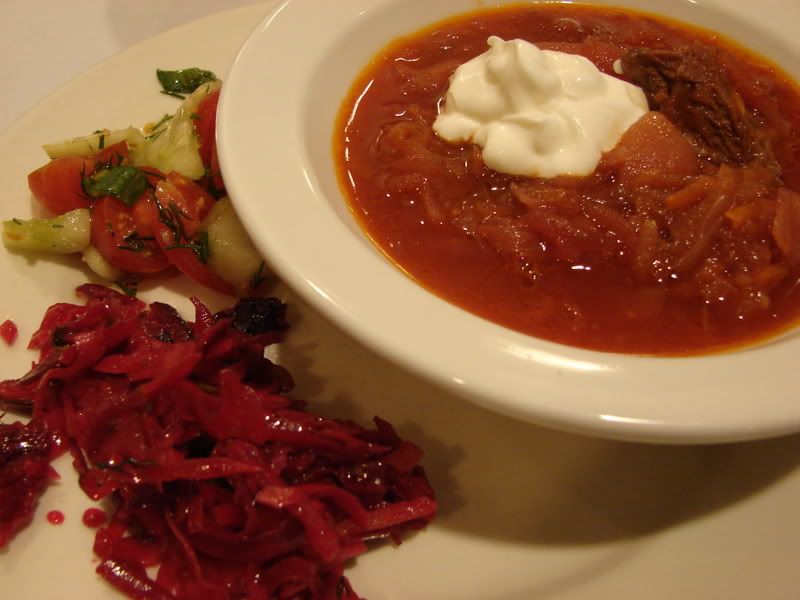 I started with a bowl of
Borscht
, a soup with beets, cabbage and beef, and a couple of cold salads, shredded beets and an extremely tasty tomato and cucumber salad with lots of fresh dill. My mom had a mushroom soup, which I tasted. It was good too. It had some spiciness that I couldn't place, but my anti-spiciness mom ate the whole bowl.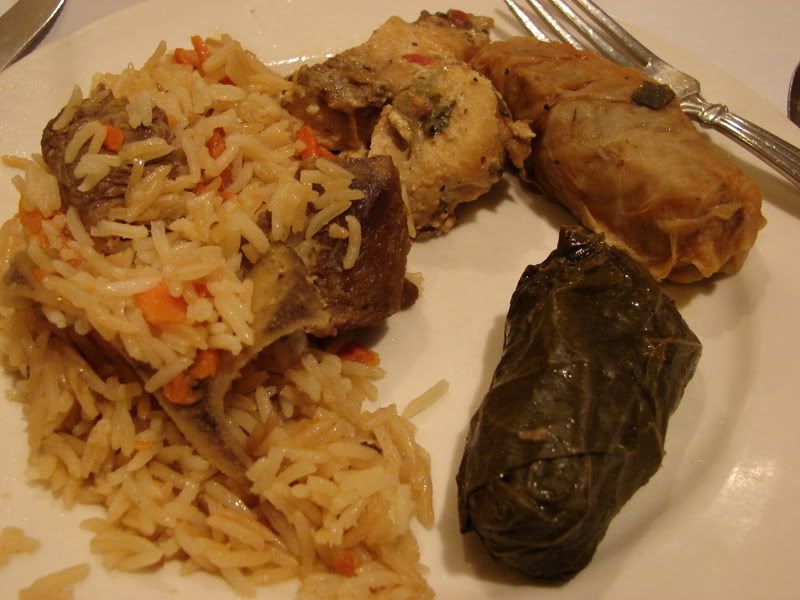 My next plate consisted of a rice pilaf with big hunks of lamb. See the bone in there? That's what I like to see! Also a fish entree that was very flavorful, stuffed cabbage and stuffed grapeleaf. All of it was yummy and homey. My mom had the Beef Stroganoff, which I also snuck a bite of. Delicious!!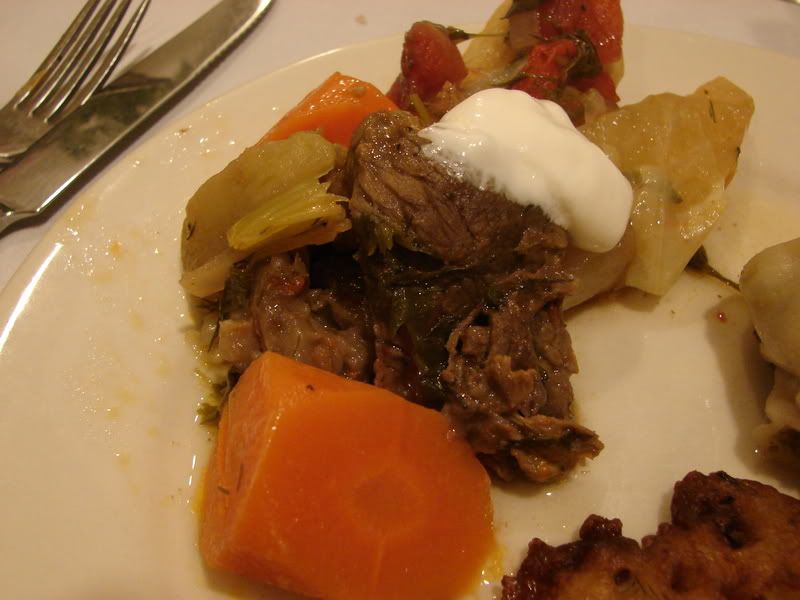 My last plate, which I went back for even though I was already stuffed, had a beef and potato stew (pictured), a potato pancake and some sort of pasta/beef roll. The highlight was this stew. It had fresh dill in it, and was chock full of veggies. Extremely flavorful and hearty. I got a suprise when I put a yellow vegetable in my mouth, thinking maybe it was squash or something, and it was a big hunk of stewed lemon! Not entirely unpleasant, but sour and unexpected.
So, I will totally visit again. They have live Russian music on Saturday nights, and the bar has a good selection of
Vodkas
and international beer, including several Russian beers, of course. Couple links:
Here's where Anthony Bourdain went
on his trip to Russia for No Reservations.
Here's
a big database of Russian recipes.