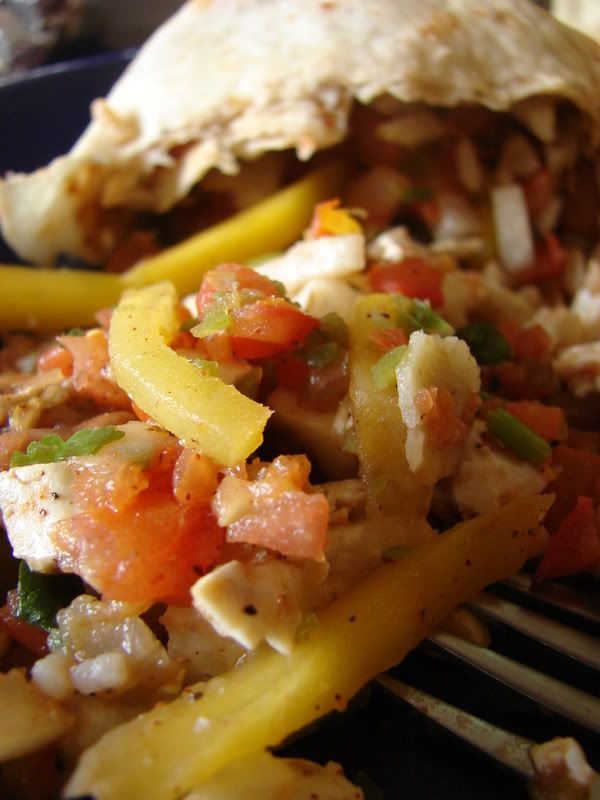 It seems that just about every Sunday we get a hankering for lunch from
Moe's Southwest grill
. This is the kind of chain I like. I am a sucker for giant burritos...and there's a plethora of burritos places popping up these days. Moe's seems to be our current favorite, though. The food is fresh and customizable and huge and tasty. I always go for a burrito, while Jack opts for steak nachos. Yesterday I got a "Joey Bag of Donuts" burrito, on which I opted for pinto bean, rice and tofu. Yes, I'm weird, I really like tofu. I actually crave the stuff. I skipped cheese, because there is so much going on it gets lost, and is not worth the extra fat and calories. I got my usual pico de gallo, fresh minced jalapeno and cilantro, then noticed a couple of new topping offerings. Mango and Jicama! I love mango! I love
Jicama!
Yay! So I added them both to my "bag of donuts." They both added a nice sweetness, and the jicama added great crunch. Jicama is my favorite veggie right now. It's flavor is sweet and it is so crisp. I need to keep some raw sticks of it in my fridge at all times to snack on, kind of like
Alanna's sugar snap pea idea.
What endears me to Moe's is the pop culture references. Most of the menu items are named after somewhat obscure references to various televisions shows and movies, such as Seinfeld, Fletch and My Cousin Vinnie. It makes things fun for trivia geeks like Jack and I. Unfortunately, they've changed some of the names since we first started going. You can see all the current menu item names and past ones and what the reference on the
Wikipedia entry for Moe's
. As you can see, you can no longer order an Ugly Naked Guy. Dammit!
Anyway, Here are some of my favorite Moe's menu items, with links to video clips about what they are referencing:
Triple Lindy
Art Vandalay
Ruprict
John Coctostan
Ha! Ah...good times.