Friday Night was chicken strip night! I made a bunch of
Ellie Krieger's chicken strips
again, and Jack made a variety of sauces for dipping them in. He also made some awesome Bloody Marys, and we watched movies. It was a nice night!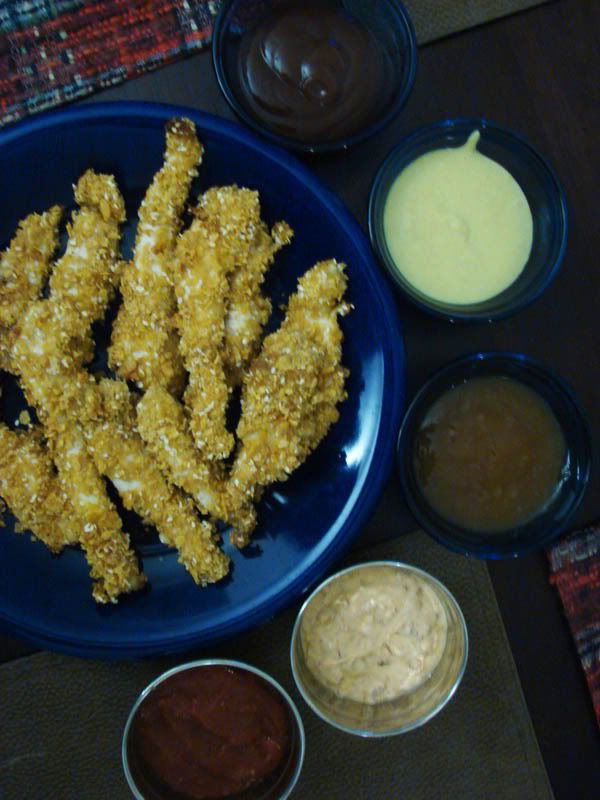 The dips, from top to bottom:
Sweet Baby Rays Barbecue Sauce, Horseradish Honey Mustard Sauce, Sweet & Sour Sauce, Chipotle Yogurt Sauce, Cocktail Sauce.
Here are the dip recipes, via Jack, minus the chipotle yogurt sauce, which was just Greek yogurt with finely chopped chipotles in adobo sauce mixed in to taste, and the Sweet Baby Rays, which is from a bottle:
Horseradish Honey Mustard Sauce


Ingredients
¼ cup Greek yogurt (or drained yogurt)
¼ cup yellow, Dijon , or stone-ground mustard (or mixture)
¼ cup honey
1 tbsp. prepared horseradish
¼ tsp. white pepper

Mix all ingredients. Adjust for heat and/or sweetness as desired. Cool and serve.




Sweet and Sour Sauce


Ingredients
¼ cup apple cider vinegar
¼ cup brown sugar
½ cup pineapple juice
1 thumb-sized piece of ginger, peeled and sliced
2 cloves garlic, peeled and sliced
1 tbsp corn starch
Cayenne or ground red pepper (optional)

In a small container, mix the corn starch with enough pineapple juice to dissolve. In a saucepan, heat the vinegar, brown sugar, and the rest of the pineapple juice. Add the ginger, garlic and cayenne (optional) and boil for up to 2-3 minutes. While boiling, add the corn starch/juice mixture and stir until thickened. Cool and serve.




Cocktail Sauce


Ingredients
½ cup catsup (ketchup works just as well)
1 tbsp prepared horseradish
1 tbsp Worcestershire sauce
1 tbsp hot pepper sauce

Mix all ingredients. Adjust flavor as desired. Cool and serve.
As for the Bloody Marys...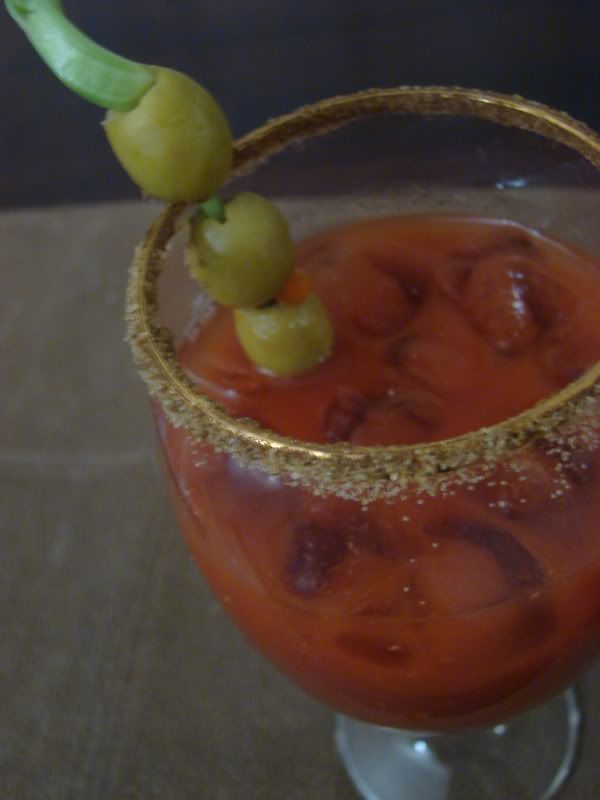 Jack garnished them with a rim of celery salt and green olives skewered won a thin spear of celery. Yum! If only we had known about
Brownie Points' bacon vodka
(thanks
Alanna!
). That would have made a great addition to this cocktail. Oh well. Here is the Bloody Mary recipe:
Jack's Bloody Mary Mix


Ingredients
4 cups vegetable juice (V-8 or equivalent)
2 tbsp prepared horseradish
4 tbsp Worcestershire sauce
hot pepper sauce to taste
1 tsp white pepper
1 tsp celery salt

Mix all ingredients. Adjust flavor as desired. (and add vodka to your taste, of course. We added 2 oz. of vodka to drinking glasses filled a little more than halfway with ice, then filled the rest with the Bloody Mary mix and stirred. You could also shake it and strain out the ice.)
Now THAT's a good Friday night, people!