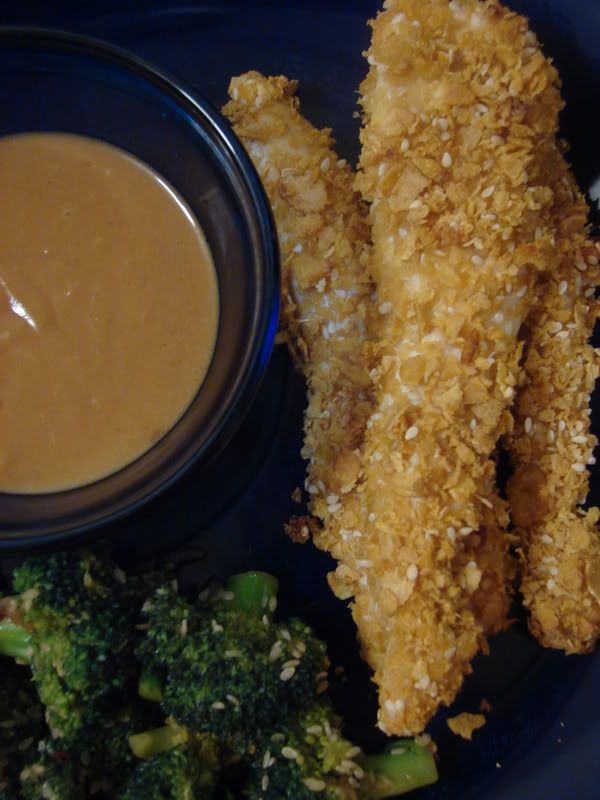 Last night for dinner I made E
llie Kreiger's Crispy Chicken fingers from her book The Food You Crave, as featured on Serious Eats.
I had made a couple recipes before of Ellie's...
The fried chicken and collard greens.
..after seeing one of her shows on the Food Network. We like the fried chicken, and these strips looked pretty similar. It seemed it would make a nice, comforting, quick and healthy meal. Once at the grocery store, however, I decided to nix her honey mustard sauce and whip up some spicy peanut dipping sauce instead. And for a veg I decided on broccoli stir-fried with ginger, garlic and sesame.
Recipes for the Chicken fingers (direct from the book via Serious Eats), peanut sauce and broccoli follow. Keep in mind that this is the kind of cooking you do to taste, so use my recipes as a guide, but feel free to add, subtract, veer off...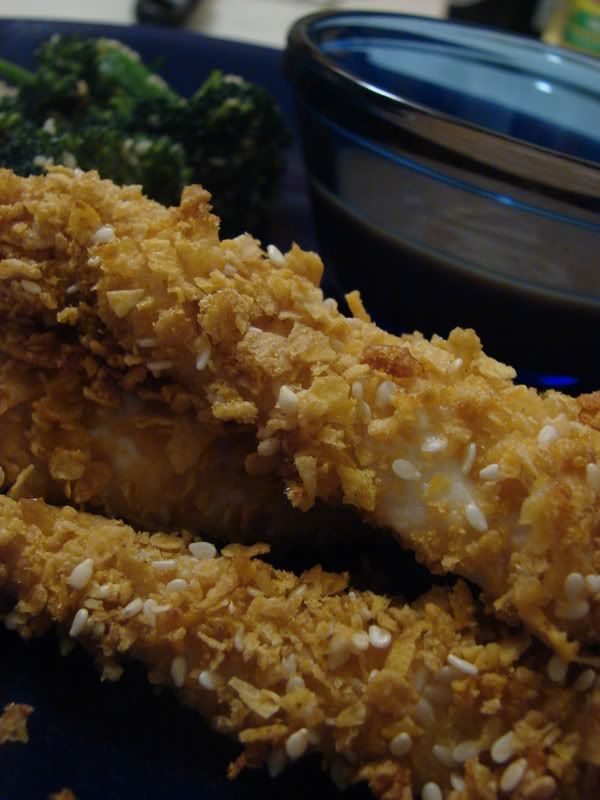 Chicken Fingers


1 1/4 pounds boneless, skinless chicken breast halves, cut across into 1/2-inch-thick slices

1/2 cup lowfat buttermilk 
(I added some soy sauce to my buttermilk...don't know if that made a ton of difference or not)
Cooking spray (I just used vegetable oil wiped on the pan with a paper towel...)

4 cups whole-grain corn cereal such as Corn Chex or corn flakes 
(I added sesame seeds as well...)
1/4 teaspoon salt 
Pinch of freshly ground black pepper (I put in about 1 tsp. of white pepper instead of black)

Procedure
1. Preheat the oven to 400°F.
2. Combine the chicken and buttermilk in a shallow dish. turning the chicken to coat it with the buttermilk. Cover and chill for 15 minutes. Coat two baking sheets with cooking spray.
3. Put the cereal in a sealable plastic bag and crush with a rolling pin.
4. Transfer the crumbs to a shallow dish and season them with the salt and pepper. Dip each piece of chicken in the cereal to fully coat and arrange on the prepared baking sheets. Bake until cooked through, about 8 minutes. Leave the chicken on the baking sheets to cool slightly. It will become crispier.
Peanut Dipping Sauce


1/3 cup creamy peanut butter
3 Tbsp. honey
1 tsp. fresh grated ginger
1/2 tsp. fresh grated garlic
1 tsp. chili hot oil
1/2 tsp. sesame oil
1 Tbsp. soy sauce
1 tsp. rice wine vinegar
1/2 tsp. fish sauce
1/2 tsp. red pepper flakes
water to thin out...approx. 4 Tbsp.

Mix everything but the water together. add water a little at a time, stirring until sauce reaches your desired consistency.
Sesame Ginger Broccoli


3 cups broccoli florets, blanched
about 3 tbsp. vegetable oil
1 tbsp chili hot oil with some of the flakes
1 tbsp. fresh grated ginger
2 tsp. fresh grated garlic
1 shallot, sliced thin
4 tbsp. sesame seeds
4 tbsp. soy sauce
dash of fish sauce

cook shallots and garlic in oil until translucent, add ginger, hot chili oil and sesame oil and sesame seeds, cook for a couple minutes, then add broccoli and stir-fry for about a minute before adding soy and fish sauces and cooking for another couple of minutes.