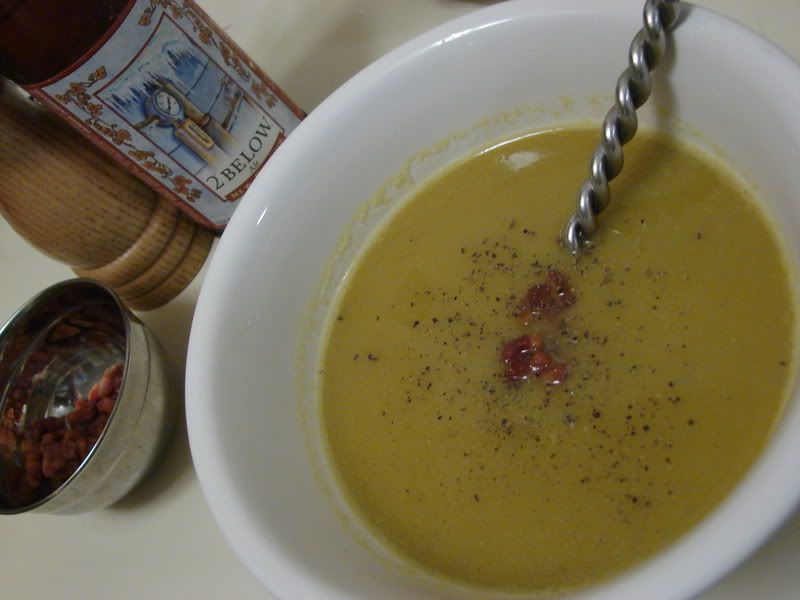 The weather has turned into a constant cold (rather than the fluctuating from mild to cold and back all through November), so something warming was called for.
I made a batch of pea soup last year that totally rocked. Best pea soup EVAR. Somehow, I was so awed by my abilities that I failed to record anything I did. So this time I kind of winged it...found a good basic recipe online and added what touches I could remember from that rockin' batch.
I crisped up some tiny diced bacon, which I set aside to top the finished soup. I cooked 1 white onion, two carrots and 2 stalks of celery, all finely diced, in the bacon fat and some olive oil until they were very soft. Then I put a 1 lb. bag of dried split peas (that I had rinsed and sorted through), a big hunk of my bacon and water to cover everything by a couple inches. I covered that and just let it cook away at a slight simmer for a couple hours.
By then it was bedtime and we'd already eaten something else, so I dropped in a bundle of fresh herbs (sage, thyme, rosemary wrapped in cheese cloth) while the soup was hot, let the soup cool and put it in the fridge overnight. The next night I simply took it out of the fridge, fished out my herb bundle and bacon, pureed the soup with my stick blender and heated it up. It wasn't as awesome as last time. I think I added too much water, and I also think a chunk of pork with bone in it would have added more body. Still a good winter meal though, with some beer and warm bread.