Cupcakes
are all the rage, that's for sure. Why not? they're cute, yummy and versatile. Recently, I came across
this gallery of meat cakes
. And noticed someone had tried meat cupcakes. And I decided I needed to try to make some meat cupcakes. Basically, small meatloaves with mashed potato frosting. I've never made meatloaf, though, so I wasn't sure how to begin.
Like a sign from above, America's Test Kitchen was making meatloaf today!! So after watching the show, I went online, registered on the site (it's free and they offer you a free issue of the fabulous Cook's Illustrated magazine!)
and got the recipe
. I then spent my Saturday night making Meat Cupcakes. And they were so yummy. America's Test Kitchen did not fail me. It's a great recipe:
Glazed Meat Loaf or All Beef Meatloaf
from the Episode: Meat Loaf Dinner

If you can't find chuck and/or sirloin, substitute any 85 percent lean ground beef. Handle the meat gently; it should be thoroughly combined but not pastelike. To avoid using the broiler, glaze the loaf in a 500-degree oven; increase cooking time for each interval by 2 to 3 minutes.

Serves 6 to 8
Meat Loaf

3 ounces Monterey Jack cheese , grated on small holes of box grater (about 1 cup)
1 tablespoon unsalted butter
1 medium onion , chopped fine (about 1 cup)
1 medium rib celery , chopped fine (about 1/2 cup)
1 medium clove garlic , minced or pressed through a garlic press (about 1 teaspoon)
2 teaspoons minced fresh thyme leaves
1 teaspoon paprika
1/4 cup tomato juice
1/2 cup low-sodium chicken broth
2 large eggs
1/2 teaspoon unflavored gelatin (powdered)
1 tablespoon soy sauce
1 teaspoon Dijon mustard
2/3 cup crushed saltine crackers
2 tablespoons minced fresh parsley leaves
3/4 teaspoon table salt
1/2 teaspoon ground black pepper
1 pound ground sirloin
1 pound ground beef chuck

Glaze

1/2 cup ketchup
1 teaspoon hot pepper sauce
1/2 teaspoon ground coriander
1/4 cup cider vinegar
3 tablespoons packed light brown sugar


See Illustrations Below: Creating a Free-Form "Loaf Pan"

1. Adjust oven rack to middle position; heat oven to 375 degrees. Spread cheese on plate and place in freezer until ready to use. Prepare baking sheet (see illustration below).

2. Heat butter in 10-inch skillet over medium-high heat until foaming; add onion and celery and cook, stirring occasionally, until beginning to brown, 6 to 8 minutes. Add garlic, thyme, and paprika and cook, stirring, until fragrant, about 1 minute. Reduce heat to low and add tomato juice. Cook, stirring to scrape up browned bits from pan, until thickened, about 1 minute. Transfer mixture to small bowl and set aside to cool.

3. Whisk broth and eggs in large bowl until combined. Sprinkle gelatin over liquid and let stand 5 minutes. Stir in soy sauce, mustard, saltines, parsley, salt, pepper, and onion mixture. Crumble frozen cheese into coarse powder and sprinkle over mixture. Add ground beef; mix gently with hands until thoroughly combined, about 1 minute. Transfer meat to foil rectangle and shape into 10 by 6-inch oval about 2 inches high. Smooth top and edges of meat loaf with moistened spatula. Bake until an instant-read thermometer inserted into center of loaf reads 135 to 140 degrees, 55 to 65 minutes. Remove meat loaf from oven and turn on broiler.

4. While meat loaf cooks, combine ingredients for glaze in small saucepan; bring to simmer over medium heat and cook, stirring, until thick and syrupy, about 5 minutes. Spread half of glaze evenly over cooked meat loaf with rubber spatula; place under broiler and cook until glaze bubbles and begins to brown at edges, about 5 minutes. Remove meat loaf from oven and spread evenly with remaining glaze; place back under broiler and cook until glaze is again bubbling and beginning to brown, about 5 minutes more. Let meat loaf cool about 20 minutes before slicing.


photo time!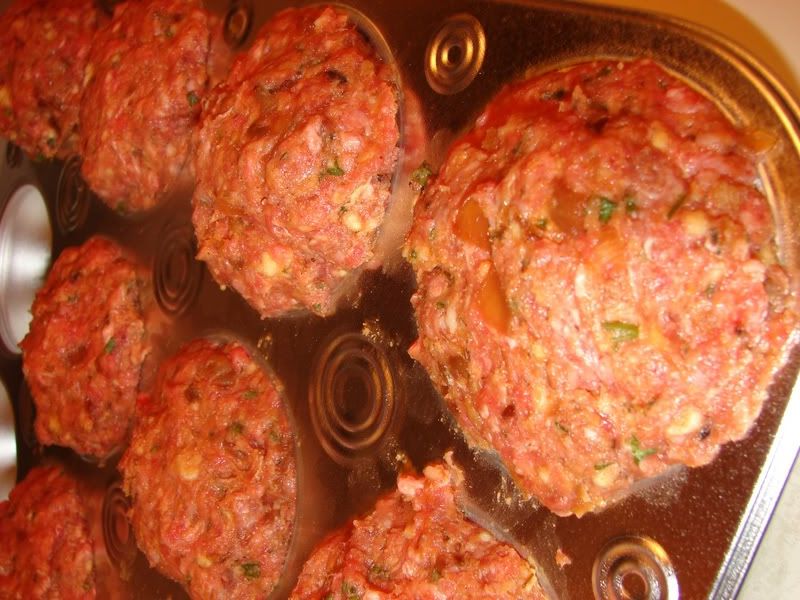 Here are the little meat cakes before meeting their fate in the oven.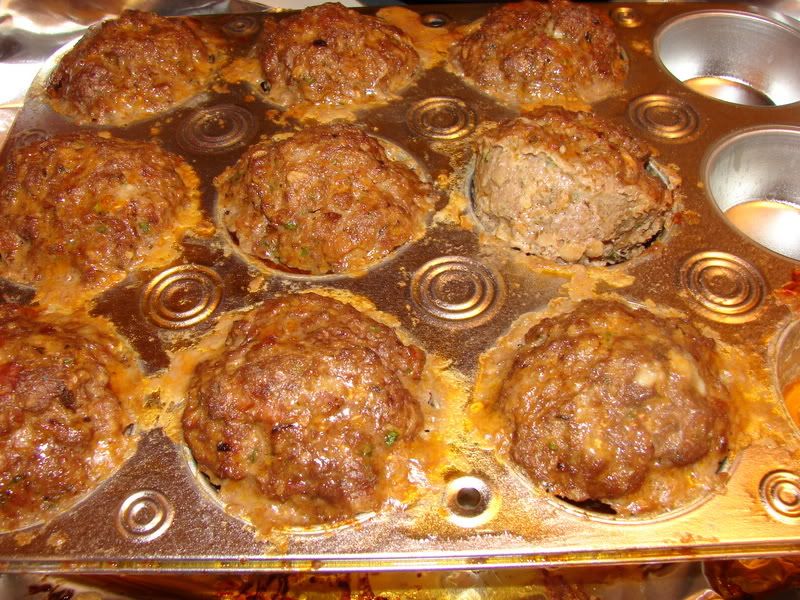 Out of the oven! Pretty messy...making little cakes this way causes a lot of grease build up. I transferred them to a clean dish to glaze them.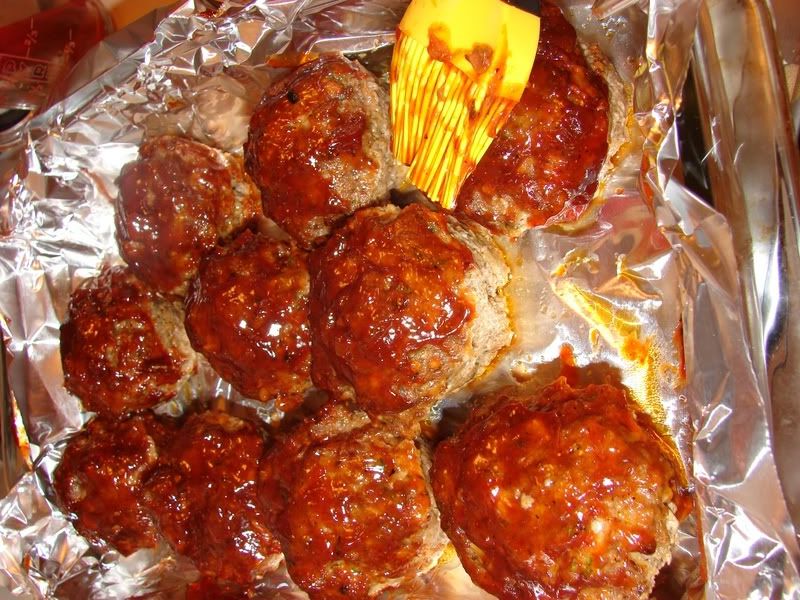 Putting the glaze on. The glaze is wonderfully flavorful. Sweet, spicy, sticky. Yum!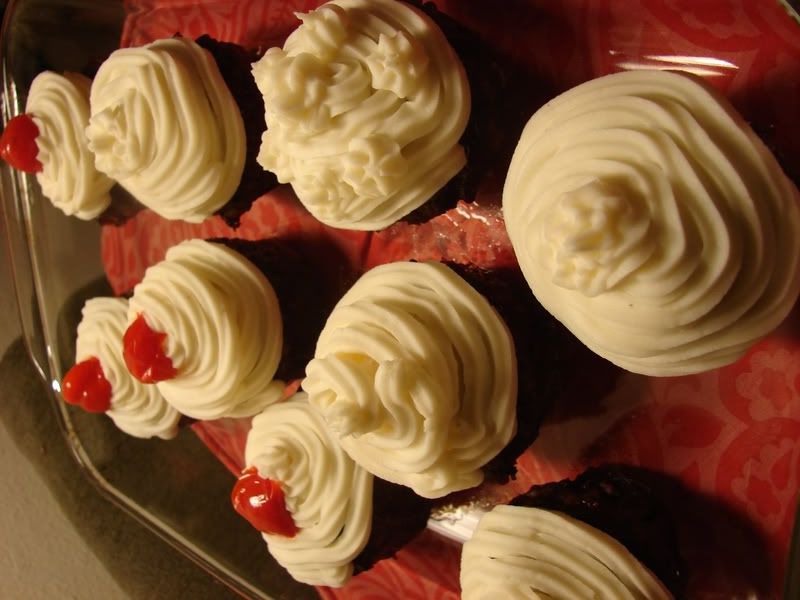 Here's the finished Meat Cupcakes! I used instant mashed potatoes (sue me!), which helped me get a good thick consistency for piping it on the meat cakes.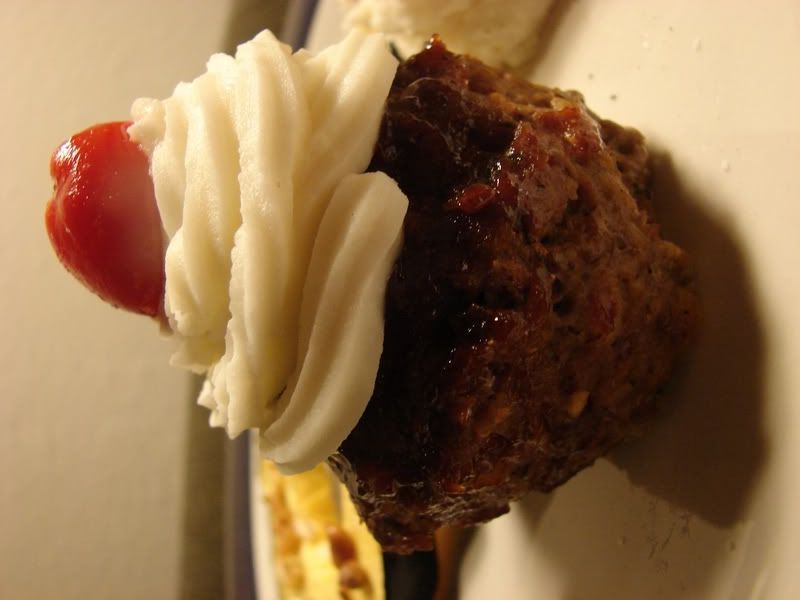 The "cherry" on top is a
peppadew
, who's sweet peppery flavor went really well with the meatloaf.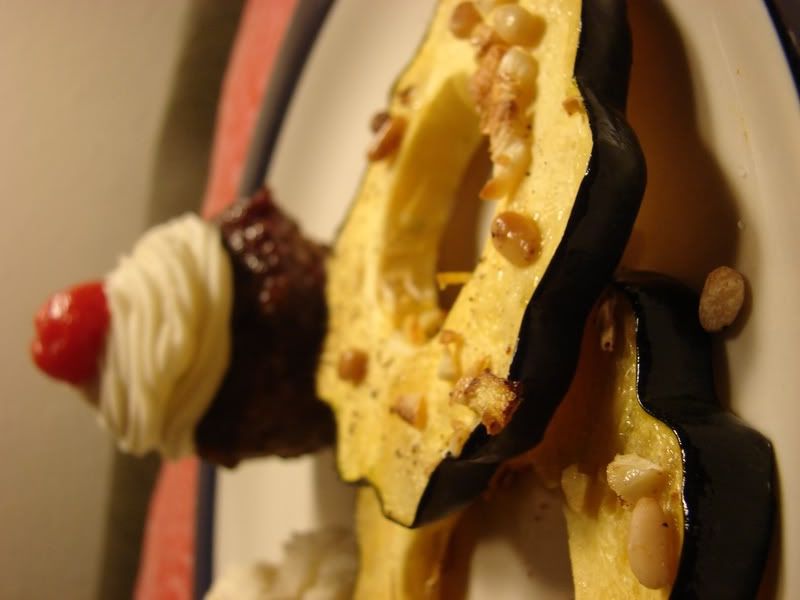 I served the meat cupcake with some
baked acorn squash
. They were so cute together!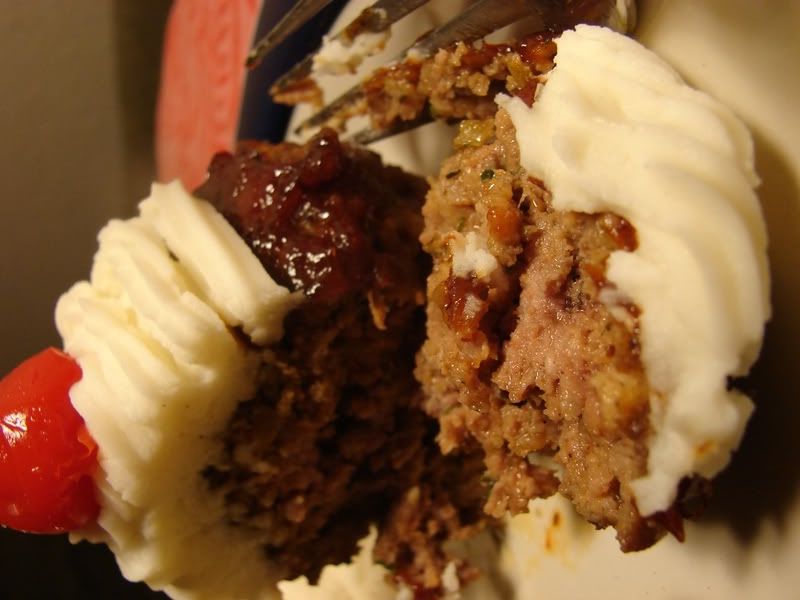 Here's the cupcake all cut open. It was moist and delicious!
These were a blast to make. A bit messy and kinda time-consuming, but for a chilly Spring weekend night, I highly recommend it. For more inspiration, check out
these cute meat cupcakes from Food Network Canada!
Candied fennel, huh?