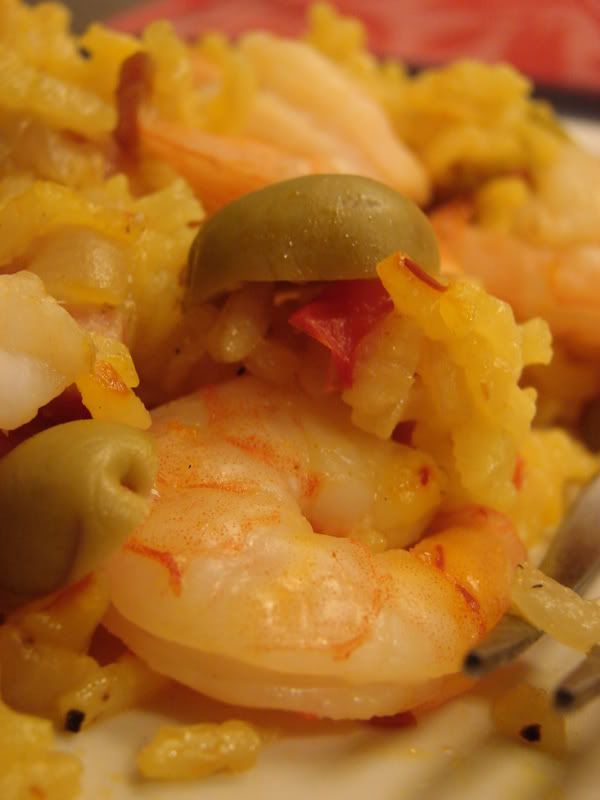 For dinner tonight I made the
One Hour Shrimp Paella
from April's Issue of Bon Appetit. It's no
authentic paella
, but darn it! It was simple to make, nice and quick, healthy and yummy. The only things I changed on the recipe were adding some red chile flakes, a dash of garlic powder, and a little bit extra bell pepper and onion. I did overcook the rice a little, but I'll blame my lame-o apartment issue electric stove for that...yeah...that's the ticket! Also, the "4 servings" it says it makes? Those are very generous servings. Less than one serving was plenty for me as dinner.
Here's the recipe:
ONE-HOUR SHRIMP PAELLA





Bon Appétit, April 2007




Makes 4 servings.



ingredients


1 tablespoon olive oil
8 ounces 1/2-inch cubes smoked ham (about 1 3/4 cups)
2 cups chopped onions
1 cup chopped red bell pepper
1/4 teaspoon (generous) saffron threads, crumbled
1/4 teaspoon hot Spanish paprika or hot Hungarian paprika
3 1/4 cups (or more) low-salt chicken broth, divided
1 1/2 cups arborio rice or medium-grain white rice
1 pound uncooked peeled deveined large shrimp
1/2 cup pimiento-stuffed green olives, halved



preparation


Heat oil in heavy large skillet over medium-high heat. Add smoked ham, onions, and bell pepper, and sauté until golden brown, about 8 minutes. Stir in saffron and paprika, then 3 cups broth and rice. Bring to boil. Sprinkle with salt and pepper. Reduce heat to low, cover, and simmer until rice is almost tender, about 15 minutes. Nestle shrimp into rice, top with olives, and drizzle with 1/4 cup (or more) broth to moisten. Cover and cook until shrimp are just opaque in center, about 6 minutes. Season to taste with more salt and pepper.